Education Management Solutions
At Education Management Solutions, we merge essential information across environments, helping organizations align performance and capabilities between education, training, and active provider care.
EMS solutions seamlessly connect and analyze competency-based performance data for curriculum assessment and student performance tracking. Additionally, our open architecture removes silos across OEM hardware, simulation training tools, video conferencing, learning management systems, and external data sources for reporting.
Fusing performance observations and measurements across immersive reality, hands-on education, and classroom instruction; EMS provides a comprehensive learning backbone that elevates the discipline of healthcare anytime, anywhere.

To provide adaptive technologies elevating the discipline of healthcare anytime, anywhere.
To create innovative solutions that empower the delivery
of the best healthcare.
We help customers align their investment decisions in continuous education strategies to enable focused outcomes.
Demystifying the Data Storm
Medical simulation has evolved from an educational afterthought to a clinical learning necessity. And in the new healthcare landscape, it's become even more relevant for its ability to impact what we call the BIG 3: safety, quality, and cost.
But as the adoption of medical simulation training has grown exponentially, the amount of associated data and information has exploded. Research shows that figure is doubling about every two years.
And worse, the information is fragmented across various devices, departments, sources, and systems.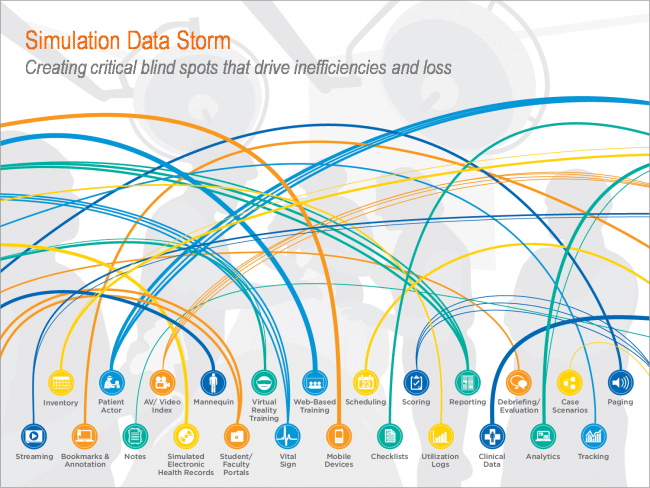 Simulation-based training is the gold standard in clinical education and can be traced back decades to other high-stakes industries such as aviation (flight simulators) and the military (combat training). 
The goal of every simulation type is skill development for improved safety. The learner trains and learns in a consequence-free environment. At no point during a flight simulation is an actual plane in danger of crashing, and likewise, the clinical learner using medical simulation can build assessment, diagnosis, critical thinking, and communication skills without ever jeopardizing the health and wellbeing of a real patient.  
In this vein, EMS has moved progressively from being a strictly product-driven company towards a provider focused on increasing the efficacy and efficiency of simulation-based solutions. Our ongoing mission is to bring all the simulation-based solutions under one umbrella to increase training effectiveness and better health outcomes. 
What Our Clients Are Saying
Our goal in any client engagement is to ensure the successful application of our product and feature sets. But it doesn't end with deployment and on-boarding; we provide ongoing technical expertise and one-touch support to ensure the holistic success of the programs that are being supported by our solutions.