Turnkey Telehealth Simulation Technology for Enhanced Patient Care Training
Telemedicine Simulation is Changing the Way Learners Develop Clinical Care Skills
From videoconferencing and remote monitoring, to electronic consultations and mobile communications, telemedicine connects patients to expert healthcare services that may otherwise be geographically or financially inaccessible. It also saves patients time and money, reduces transfers and emergency room visits, augments traditional treatment for more value-based care, and addresses physician burnout.
And the use of telemedicine and telehealth technology is rapidly increasing. According to a recent survey, as many as 7 million patients were treated via telemedicine in 2018—up from just 350,000 in 2013. This number is only expected to rise: about 90% of healthcare executives report that their organization has already begun developing or implementing a telemedicine program1, and 76% percent of U.S. hospitals2 connect patients with practitioners using video and internet technology.
76% percent of U.S. hospitals connect patients with practitioners using video and internet technology.
Today's healthcare learners should be prepared to deliver telemedicine-based care in real clinical practice from day one. Do you have the tools you need to conduct comprehensive telemedicine training at your institution? See how SIMULATIONiQ's Telemedicine features can help you bridge the gap to a more modernized healthcare simulation environment.
1 "36 Telemedicine Statistics You Should Know." EVisit, blog.evisit.com/36-telemedicine-statistics-know. 2 Fact Sheet: Telehealth | AHA." American Hospital Association, Feb. 2019, www.aha.org/factsheet/telehealth.
Ready to Modernize Telehealth Simulation Scenarios?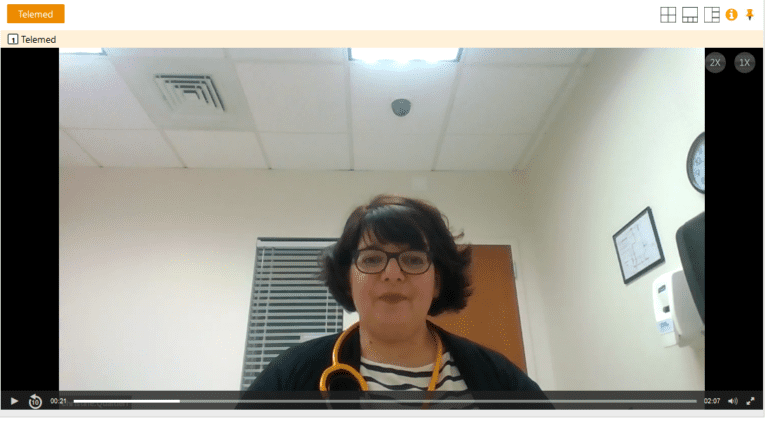 EMS' SIMULATIONiQ™ Enterprise and SIMULATIONiQ™ Enterprise Cloud telemedicine-ready simulation management platforms help institutions modernize their training programs to merge and manage virtual, online, live, and mobile training curricula.
Leverage the latest technology to conduct end-to-end telemedicine training across multiple disciplines, enabling your learners to develop critical care delivery skills and empowering them to meet the demands of delivering medical services within remote and virtual environments.
"EMS' Telemedicine functionality has not only kept my staff working, but it has also expanded the number of educators using the center. It's a life saver"
John Sterling Multimedia Coordinator Grand Valley State University
Take charge of your programs and maximize efficiency
with seamless end-to-end simulation management.

Click the button to get started: