Training in Motion Solutions
Conduct Training Anywhere
Powerful simulation training solutions on the move
Education Management Solutions' Training in Motion® simulation platforms allow you to take your training events anywhere with their compact, but powerful, simulation solutions that adapt to any environment. With an out-of-the-box setup complete within minutes, wireless connectivity, and battery-powered mobility, you'll be able to effortlessly conduct highly effective training anywhere, removing the tethers to traditional classrooms.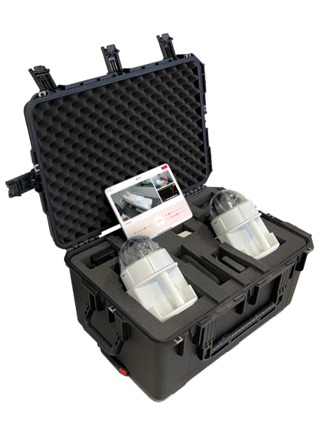 Training in Motion®'s multiple feed control allows educators and instructors to display up to four feeds simultaneously, including video, vitals from manikins, and stats.
Whether you need to monitor several simulations at once, or keep tabs on several streams of data, with the ability to view multiple feeds at once, educators and learners gain a comprehensive and real-time understanding of the simulation scenario, leading to more effective training outcomes.
The System Health connectivity monitoring feature offers users a seamless way to monitor and optimize the performance of the entire system. With this feature, users can effortlessly keep tabs on the operational status of the Training in Motion® platform, ensuring maximum uptime and minimizing any potential disruptions.
By providing comprehensive system health monitoring, Training in Motion® empowers users to maintain a reliable and efficient simulation training platform, delivering exceptional and consistent training experiences to learners.
Training in Motion Use Cases
Enhance Your Mobile Training with Powerful Add-ons
Let's connect to explore how Training in Motion® can expand how and where you offer your healthcare training!